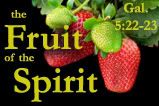 I have been nominated to display this Fruit of the Spirit graphic on my blog. The fruits of the
spirit
are
love, joy, peace, patience, kindness, goodness, faithfulness, gentleness, and self-control.
(Galatians 5:22-23) It is my prayer to live out these virtues in my life, and apparently someone else thinks I display these qualities through my posts and offer a glimpse of the fruit in my life.
As you can see on my sidebar, the goal of my blog is to "learn from others, encourage others, and share my journey as I seek God's will for my life." And I'm so pleased that I have been encouraging to others, and as I continue to display this graphic on my blog, I will remember to keep that as my focus of my writing.
I'm in the process of getting the Fruit of the Spirit blogroll added to my sidebar. So check back later for a list of other blogs displaying the fruits of the spirit.